Date of publication : 2020 / 02 / 18 Browse times : 3961
On September 27, Mr. Hou Weigui, founder of ZTE Co., Ltd., visited the Shenzhen headquarters of Donica for guidance and attended the signing ceremony of the capital increase agreement between the two parties. Mr. Cai Zhaoyang, Chairman of Donica and other members of the company attended the signing ceremony.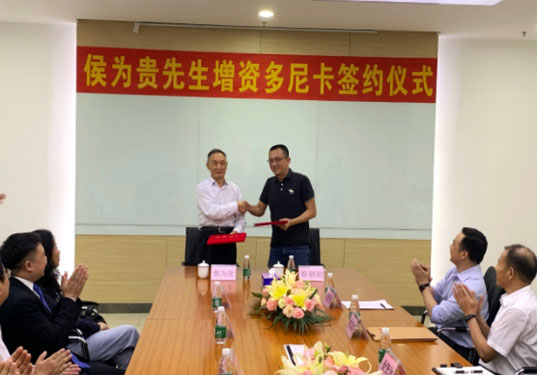 Mr. Hou Weigui's capital increase of Donica Avionics aims to support the continuous innovation and development of China's national avionics industry.
Mr. Min Jiangang, general manager of Donica, presided over the signing ceremony and delivered a welcome speech, expressing heartfelt thanks to Mr. Hou Weigui for his capital increase support. Mr. Min Jiangang said, "after 16 years of honing and industry accumulation, Donica always adheres to the avionics market and strives to become an excellent supplier of avionics equipment in China. Through a series of strategic measures such as constantly improving the level of research and development, increasing the introduction of professional talents, optimizing the management structure of enterprises, etc., the company's development vitality is constantly stimulated. In recent years, while being recognized by domestic and foreign airlines, it has also received support from a number of strategic partners. The Donica team is confident in the future development. "
Mr. Hou delivered a speech at the signing ceremony and put forward the following important guidance for the follow-up development of Donica:
1、Based on product quality. All departments of sales, products and R & D should cooperate closely, grasp the development rhythm, pay attention to the product quality, not sacrifice the quality for the sake of speed, and go back;
2、Regard customer demand as the source of development. Accurately obtain and meet the needs of customers, solve the urgent needs of customers in the process of cooperation, and improve customer satisfaction;
3、Take technological progress as the fundamental driving force for development. At present, the safety level of donica products is still at level E, and the technical level needs to be continuously improved to move towards higher level products;
4、The long-term goal of development is to enter the front of the pack. At present, donika's main business is focused on the refitting market. The team needs to make a long-term plan to become a front loading supplier of Airbus, Boeing, COMAC and other important aircraft manufacturers, so as to achieve a new height of development.
Mr. Hou said that looking into the future, China's avionics market has huge potential. The Donica team should continue to keep its original mind, move forward calmly and seize market opportunities. After listening to Mr. Hou Weigui's speech, the participants were deeply touched and warmly applauded at the scene.
Mr. Cai Zhaoyang, Chairman of Donica, thanked Mr. Hou Weigui for his trust and high hopes. In his subsequent speech, Mr. Cai Zhaoyang said that in order to realize the qualitative leap of national flight experience and create a more advanced digital aviation environment, the Donica team rapidly extended the development strategy from traditional avionics equipment to airborne wireless entertainment system, and invested a lot of money and manpower for a long time to realize the continuous innovation of IFEC products. He pointed out that in recent years, China's civil aviation industry has been accelerating the pace of "Internet plus" and "digitalization", and airlines have attached more importance to strategic brand building and industrial construction related to the airborne cabin Internet. In the face of huge market opportunities, China's avionics market cabin space interconnection has entered a new stage, which emphasizes cooperation, coordination, mutual benefit and win-win. If the first ten years are to cultivate our internal power, we hope to have more strategic partners to join us in the next ten years, win the market together and serve the market better. Mr. Hou's capital increase support in this critical development period is not only a affirmation of the Donica team, but also a great expectation for the future prospects of Donica. To this end, Donica people will firmly seize this precious development opportunity and contribute their own strength to China and even the global civil aviation electronics industry.